The HandPanShop
In 2014 we opened the first speciality store for handpans in Europe. At this moment we are working with a team of five impassionate and experienced handpan players. Great enthusiasts, with various background and expertise. By example one co-worker is educated at the Academy of Music and another co-worker is a yoga teacher. With great pleasure and patience, we guide customers to find the right match: a handpan that completely enchants them, as we were once enchanted in the same way.
We will take extensive time to walk this musical journey together with you and we are only satisfied if you go home with the perfect handpan!
Meet the team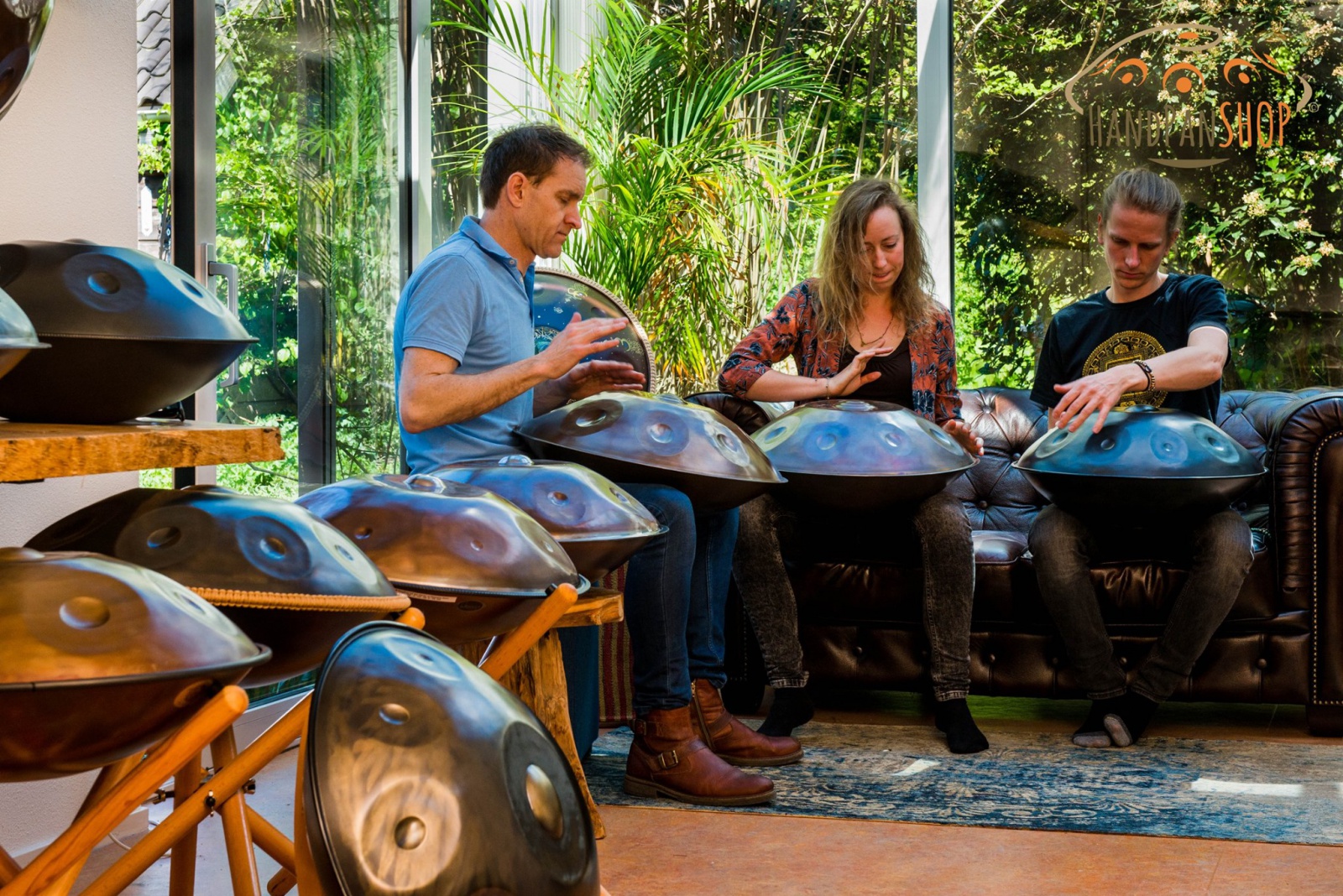 Henk-Jan (store owner, musician and experienced handpan player):
"(Making) music is an important part of my life. At the age of twelve I started drumming at the local musical association and later I played in various bands. In 2013 I discovered the handpan for the first time. On vacation in Barcelona, I heard someone play in a park. I was very surprised. It touched and triggered me immediately… that a compact metal instrument could produce such a beautiful sound! From a distance I sounded like a warm sound formed by a combination of cello, piano and percussion. Immediately I wanted to play a handpan myself! However, to buy one turned out to be a difficult task at that time. The instrument was hardly available. And if you were so lucky to find one, it was very expensive. Eventually I found and bought my first handpan in Bali in 2014.
Shop & workshops
In that same year I started to organize introduction workshops and with the handpan sale from home. I also started orientating myself in order to produce my own handspans. I had the opportunity to watch at and learn from various makers. Eventually, I decided that it suited me better to introduce people to this special instrument, rather than build handpans myself. But the knowledge I had required about how a handpan is structured, still comes in handy at my daily work in the HandPanShop.
Sales went so well that I started a store in Houten, a small town near the city of Utrecht in The Netherlands. We grew so fast that the store soon became too small, so we opened a new store in Bunnik, also close to Utrecht. Since then, I have advised many people and sold a lot of handpans to clients from all over Europe, and even from other continents. Because of that, I made beautiful contacts and saw many people leave our store satisfied, happy with their beautiful new instrument.
I am grateful that I discovered the handpan and I could make a business out of my hobby.
The success of our store made our team grow to four colleagues. What hasn't changed, is our enormous passion for this special instrument and that we guide our clients with patience and joy. Where I once started to sell only four different handpans, we currently have the largest assortment available in Europe. We offer a huge choice of unique instruments. In various types of metal, notes, scales, manufacturers and size. In our collection, we even offer handpans with bottom notes. And we also give clients the possibility to create a custom made handpan, fully made to their desires.
So many choices in handpans, so many sounds... to find your own specific sound is not an easy job. But for us that is the most important thing. More important than a quick sale. That is why we take all the time we need to find the right match for every client. For this process we have developed a special orientation session, a unique way of buying guidance. Together with you, we wander through a kind of musical tasting. This tasting often ends with a top three of potential ideal handpans from which the final choice is made. And that is not always the handpan that clients had in mind before they visited our store. That is what makes our work so much fun: providing the customer with that unique handpan they will enjoy for years to come."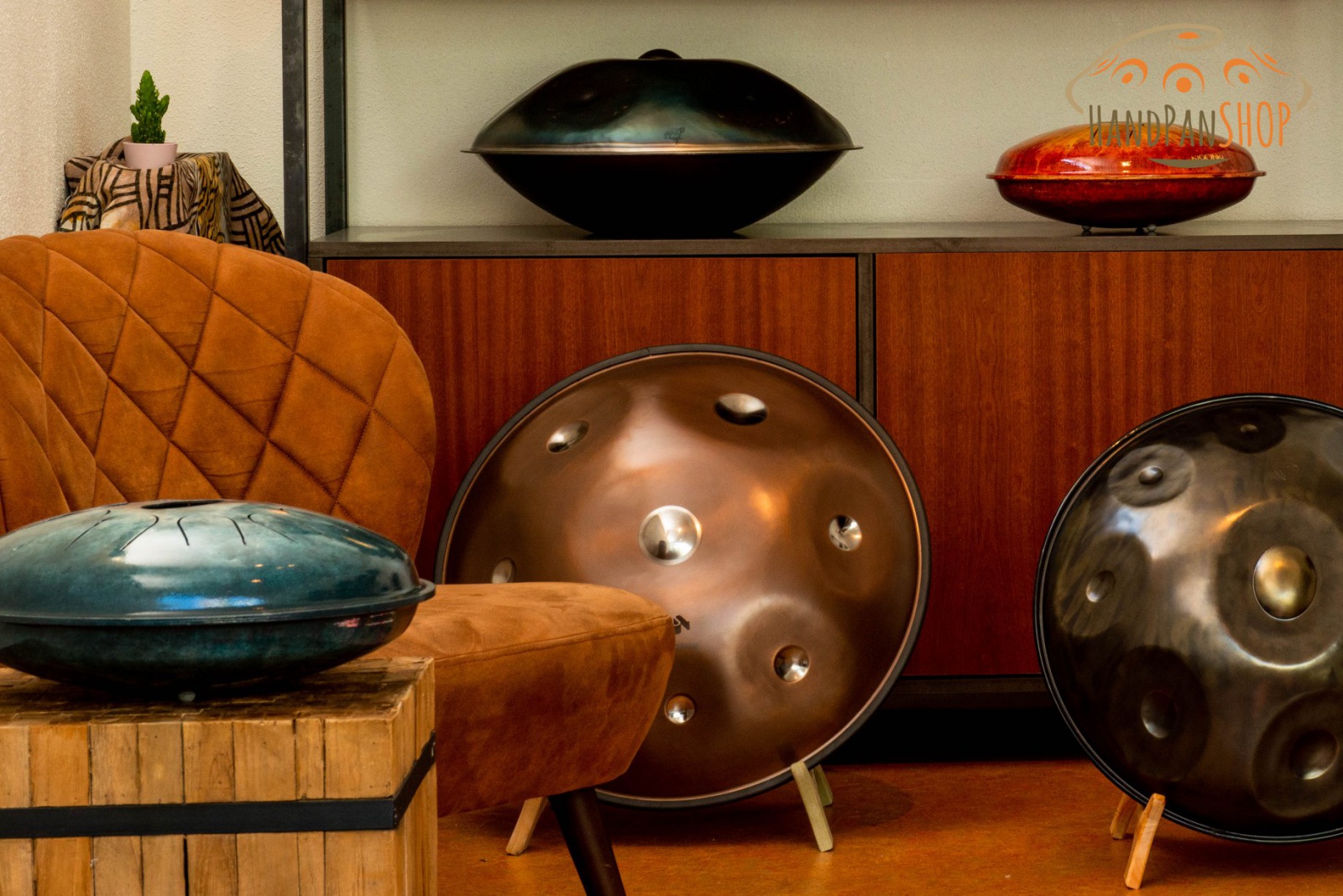 Karine (assistant)
"I enjoy working as an assistant at the HandpanShop. If you call us, or send a WhatsApp or e-mail, it's me you will be speaking to or will return your message. I plan the appointments and answer many customer questions. In addition, I have back-office duties in order to make everything runs smoothly.
I really enjoy helping clients to answer all their questions. And hearing their enthusiastic stories never bores. It is nice to see, that as soon as people have heard the sound of a handpan, they are under the spell of it's beautiful sound. Therefore at a certain moment they absolutely have to play one themselves."
Sjaak (Master Academy of Music, music teacher, experienced handpan player)
"As a teacher and musician of both the drums and the handpan, I provide the handpan workshops and orientation sessions. In addition, I give online handpan lessons. With great pleasure I can use my passion and experience to help every client find the perfect handpan. And what makes my work so enjoyable, is the huge assortment in our HandpanShop, besides that we also provide our clients after-sales services such as repairs and lessons. The HandpanShop is therefore not only the best place to buy your handpan, it also offers a foundation you can trust on in your development as a handpan player."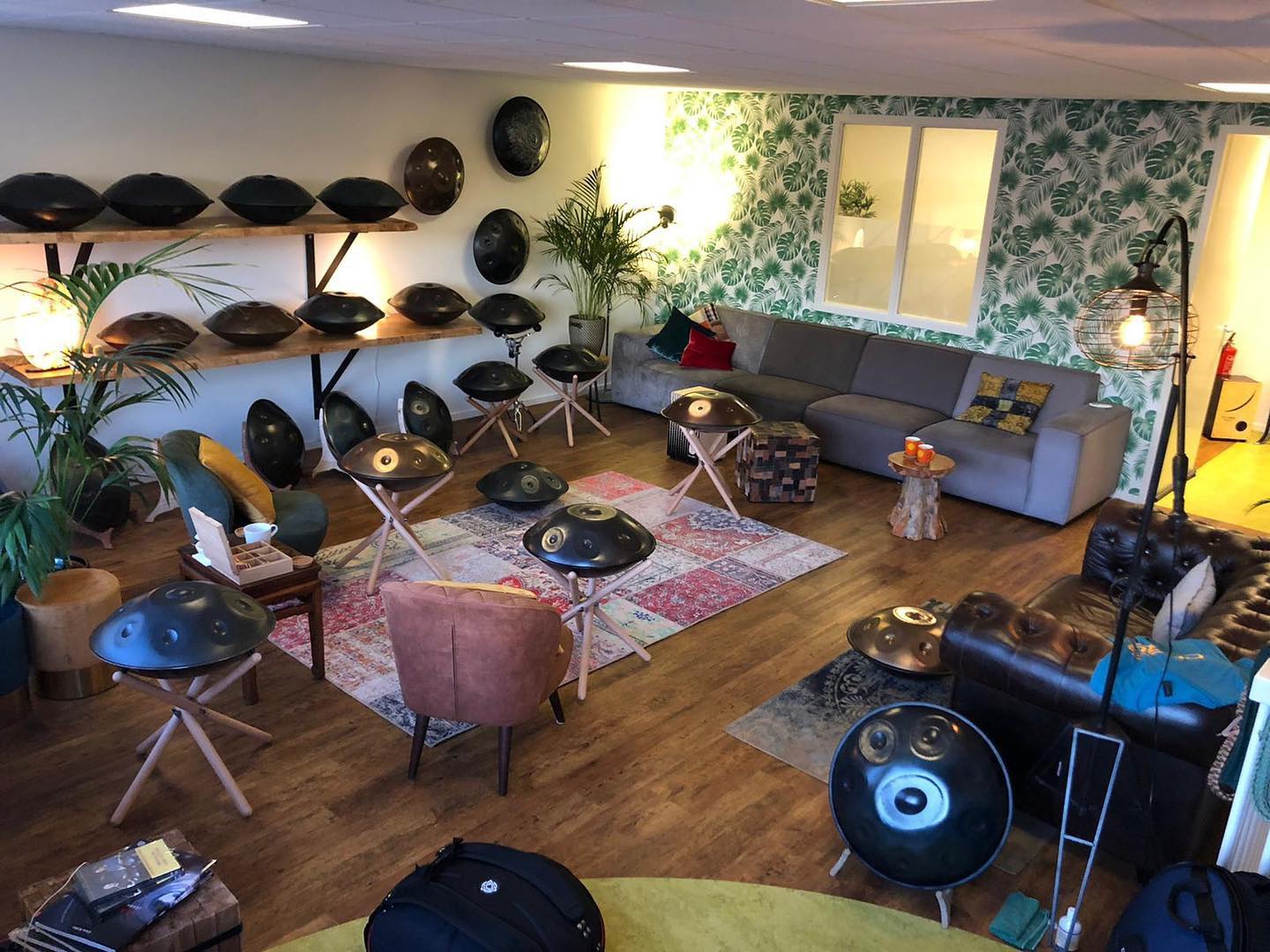 Lisa (handpan player and yoga teacher)
"Because a friend once brought the handpan to my attention, I decided to book a workshop. Not soon after that, I bought my first handpan. I was pleasantly surprised how beautiful I could use this instrument during my weekly yoga classes. In those classes, I always play my own handpan. The meditative, calming sounds are a wonderful addition. Meanwhile, I am also working in the store for a number of years now. I give workshops and supervise the orientation sessions. It still is special to see how people react to the instrument. Whether they follow a workshop or make a purchase, I always see happy faces leaving the store. Accompanying the selection process gives me satisfaction because there is often an obvious click between a specific handpan and a person. Very nice to be able to bring those two together."

Yourie (musician, experienced handpan player, and spiritually skilled)
"Since I was fourteen, I have been very active in music. I play various instruments, and since 2015, I have also been playing the handpan. In 2007, I first learned about the handpan. At that time, it was quite difficult to buy a handpan, and I was on several waiting lists. Eventually, in 2015, I was able to purchase my first handpan, and a few years later, I bought a second one. Sometimes, I play both handpans simultaneously. Thanks to my love for the handpan, I enjoy giving workshops and consultations at the HandPanShop. Assisting someone in finding their perfect handpan is always a beautiful process for me. I experience a lot of joy when customers make a good choice and leave the store feeling enthusiastic and happy."

Google-review: (Google translated from Dutch)
Ferrand Lemette: "On Saturday 20 March with Jules on the Handpan Course in Bunnik at Henk-Jan. I have always found the hand pan a fascinating instrument. But until the 20th never seen one in real life. What a magical afternoon we experienced at Henk-Jan then. Super hospitable and relaxed atmosphere. He provides good information and guidance about the hand pan. And what a fantastic beautiful instruments Henk-Jan has standing there!! Difficult to come to a choice to buy one because they almost all sound completely. In the end, totally in love with the C# Amara and Jules at the C# Mystic. Two hand pans that fit very nicely together. Something we absolutely wanted to play together. All in all, a super fun afternoon polite and Jules and I have purchased a super instrument that we still play with great pleasure. That is why I give Henk-Jan's Henk-Jan 5 stars because I/we are very satisfied with the course and the instruments. Highly recommended!!! So go to Henk-Jan and also get enchanting by this magical instrument!! Thank you, Henk-Jan!! 😇🙏🏽🛸🌈🌟☮♥️"