Learn to play handpan
Why would you want to play the handpan?
The handpan already sounds beautiful when you play it purely intuitively. With just a little effort you create a beautiful, soothing and meditative sound. Hearing these sounds is a pleasant experience. But it also provides an easy way to express yourself through a musical instrument.
By playing the handpan you quickly get into a kind of 'flow' in which nothing else exists other than what you feel, hear and experience at that particular moment... you feel completely into the here and now. Wonderfully mind-free and really clearing your head. Wonderfully mind-free and really clearing your head. The same state which you achieve with mindfulness, yoga and meditation.
In combination with the beautiful sound and musical possibilities, this has made the handpan very popular in a short time.
With our handpan workshop you discover which handpan suits you!
Do you want to discover this special musical instrument? And experience if it suits you?
Our handpan workshop offers the ideal opportunity to do so. In this workshop you will learn:
How to make the handpan sound beautiful
Play a number of rhythms
Playing together
To improvise
And of course, during the workshop there is plenty of opportunity to ask handpan specialists questions about any topic regarding the handpan.
Read all about our workshop Handpan or make an appointment.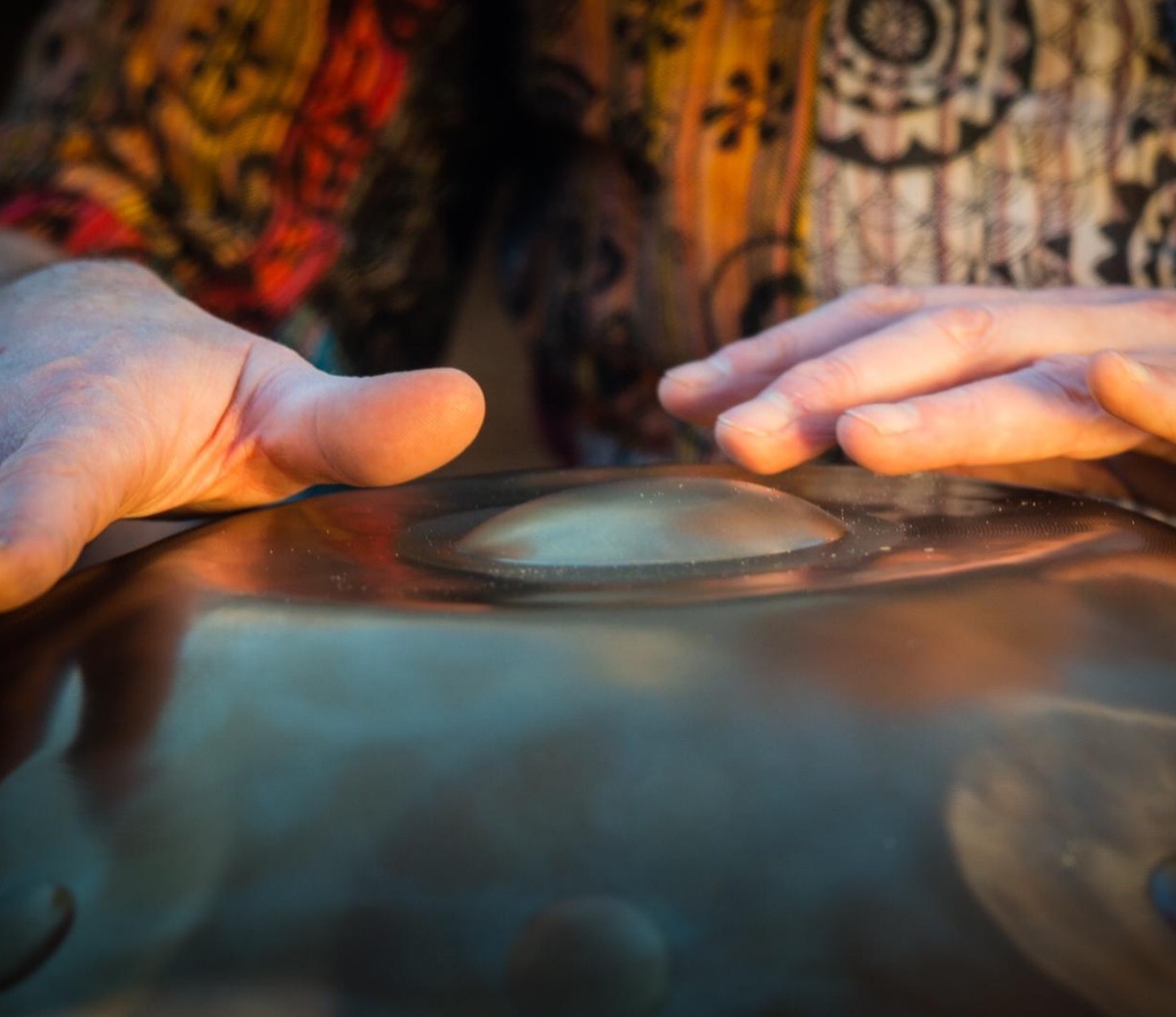 Can I learn to play the handpan?
As mentioned, you are able to play the handpan intuitively, but it is possible to learn techniques that allows you to apply different playing styles to become a more 'complete' player. Starting with re-playing handpan music and famous songs, to composing music or melodies yourself. As a result, you will have more and more options to expand your handpan fun.
You can find a lot of free information online, for example on YouTube. Paid video teaching packages are also offered. Then you can follow the lessons at convenient moments for you.
We advise the handpan online course given by Sjaak van Dam, Cora Krötz or Anna Liem.
Sjaak van Dam is the best place for accessible and low-key online handpan lessons. Courses are available for both the novice as well as for the more advanced player. The video lessons provided are of high sound quality and were recorded from multiple camera positions. The videos are supported by an included e-book. You can also contact Sjaak for a tailor-made private lesson.
At Cora Krötz you are able to follow online lessons by using a textbook that she wrote herself. Her courses in the German language cover a broad spectrum of handpan knowledge and techniques. She offers courses for both the novice as well as the more advanced handpan player.
Anna Liem offers accessible handpan lessons for beginners. Without having to log in, you will receive a link in your email and you can start immediately!
By taking an handpan (online) course now and then, you can develop yourself fast. A handpan teacher can guide you technically and teach you useful tips and tricks. Once you become completely enthusiastic, you could visit handpan festivals or follow workshops from well-known players.
When you take lessons, you will learn things like:
Keep pace
Play percussively
Improvise and compose
Play chords
Special techniques such as bends, flams and rolls