Orientation session: very extensive buying guidance
You want to buy a handpan or orientate yourself?
You can choose out of a large assortment of handpans. Different materials, manufacturers, notes, sizes…. Our experience shows that it takes time to find the handpan that suits you the best. To find your sound! That is why we have developed an orientation session. A kind of handpan buying guidance. A session in which you, together with an experienced player, discover what type of handpan fits you perfectly.
Musical journey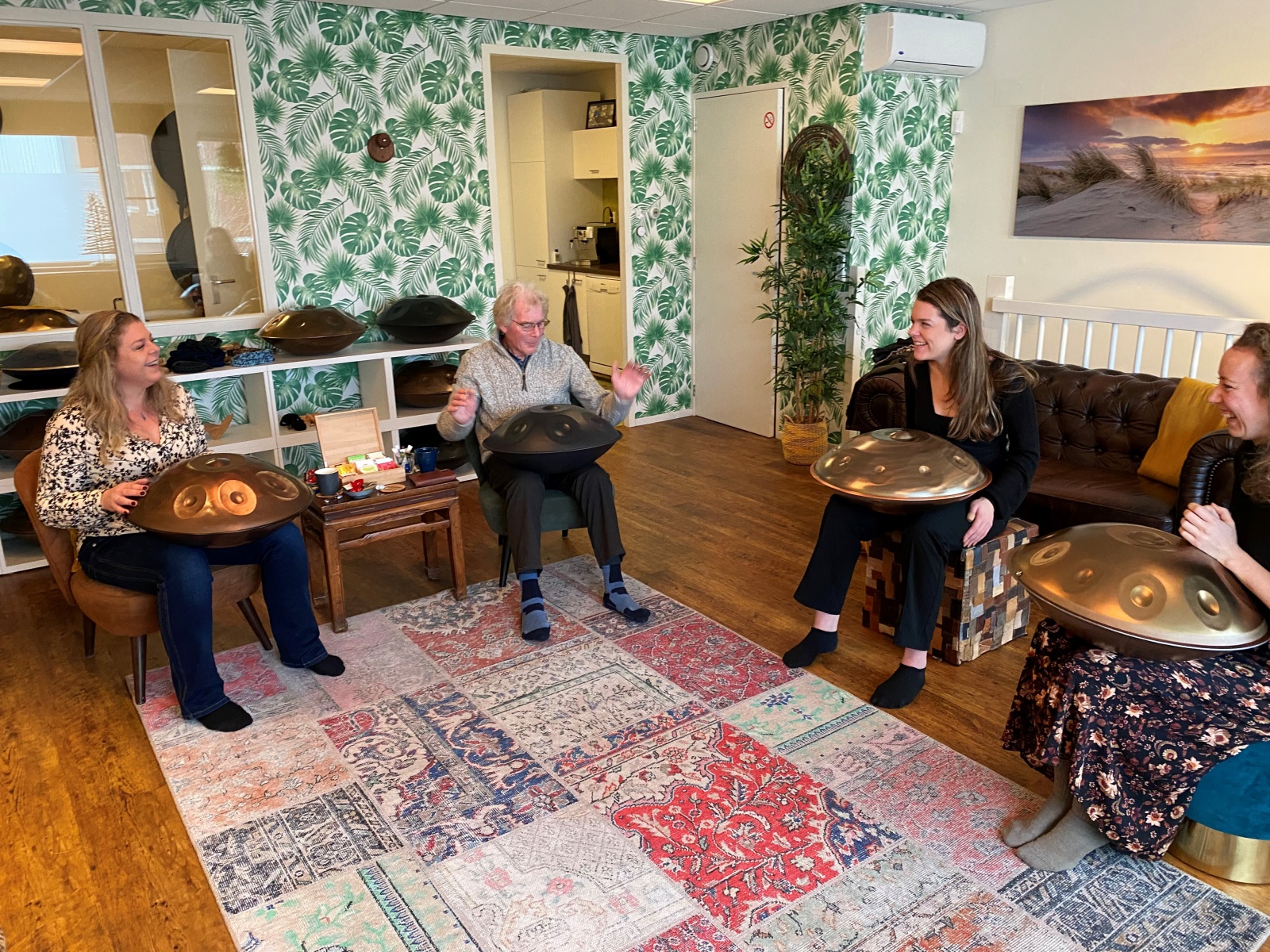 In complete tranquillity, you will make a musical journey along the various handpans. In a specially equipped room where you will feel undisturbed, you listen in a 90-minute session to the various instruments that are played. And feel free to take advantage of the opportunity to play an own selection of handpans yourself!
Together with you, we search and find that one particularly handpan that totally fits you. This journey often ends with a top three of potential ideal handpans from which the final choice is made. And that is not always the same handpan that clients had in mind before they visited our store.
If desired, we provide you with tips and tricks involving how to create the best sound out of your handpan, the structure of the instrument and the various techniques of playing.
These are one-on-one sessions, so you will be able to find the instrument that suits you the best. In a relaxed way and without any distractions.
Directly from stock
Once you have found your handpan, you can take it home directly from stock. This gives you the advantage that you receive exactly the handpan with that specific sound you loved so much, while hearing in the shop. After all, it is normal that a handpan that has to be manufactured first, will sound slightly different. Every little hit of the handpan builder has a small influence on the sound, even if he creates the same note field and uses exactly the same material. We also have accessories such as bags, stands and maintenance products in stock.
If you buy a handpan, the orientation session will NOT be charged. The normal price for these sessions is € 65,-.
Shop visit
Do you already know exactly which handpan you want to buy and therefore want to pick it up at our store? No problem! We are looking forward to welcome you. Due to our extensive orientation sessions and workshops, we are required to work by appointment only. Please, call us to plan an appointment. We then reserve 20 to 30 minutes for you for personal service.
Please note: We know from experience that 30 minutes is only sufficient time if you know exactly which handpan drum you want. Would you like to try and compare more handpans, or do you have any questions? Then 30 minutes will not be enough and we recommend you to book an orientation session, which is by the way completely free of charge when purchasing a handpan.
Other wishes?
Do you have other wishes? Feel free to ask us, a lot is possible in close consultation!
Google reviews: (Google translated from Dutch)
Linda: "Fantastic hand pan shop! A huge selection of handpans. Friendly people and good guidance, they know a lot about it and really take the time for you. I was allowed to test them all :) Every pan sounds different so if you want to purchase 1 it is important to feel and hear which handpan suits you. Highly recommended to find a handpan here! Thank you "🙏"
Ralf Silvius: "Very nice experience while looking for my new handpan. Top accompaniment by Sjaak who mainly let me play myself and when I couldn't figure it out could play for it so that I could listen to the instrument from the other side (and hear what could be achieved by a pro). In short: great service, a huge choice of beautiful handpans and tailor-made guidance."
José Löhr: "After I heard a talk from Kasper van der Meulen in which he explains why it is better to buy a good hand pan and not a factory pan, I was converted. I wanted one with more soul. A handpan that helps me to (learn to) play and that I can use during the Adem & Tre sessions I give. At the handpanshop.nl I received great help and advice from Lisa. That is really helpful, because choosing from so many different pans and options is not easy. Grateful for the time they take for this. Thanks to her help I was able to choose the sound that is completely appropriate. Very happy with it!"
Want to discover the handpan as your musical instrument?
Then subscribe and take our handpan workshop! Do you want to take handpan classes? Then check out our page Learn to play the Handpan.